Best Places to Travel in Winter
Published on:
21 November 2022
Traveling in the Winter
Whether you are looking to escape your local winter weather or engage in snow sports, there are fantastic winter destinations for everyone. Depending on the destination, traveling in the winter can suit both sun and snow lovers. For those looking to embrace winter weather, plenty of locations offer snow sports, festive holiday markets, winter-themed festivals, and cozy resorts.
While some look forward to a white winter, other travelers looking to escape the cold weather can select from a wide range of winter sun destinations where the warmest, sunniest days fall between October and May. You can warm up on the beach instead of by the fire! Great winter sun destinations include many places in the Southern Hemisphere that are home to stunning natural landscapes for hiking and camping, tons of beach resorts, and wellness getaways, just to name a few options.
To help plan your winter holiday, we have compiled a list of the best destinations and places to make the most of the winter weather or catch some winter sun.
Planning a Winter Vacation
Winter is an excellent time to travel because it is considered an "off-peak" season for many popular destinations with cold winters. From October to May, prices tend to be lower, so you can get more value for your money on plane tickets and accommodation bookings. Many tourist sites will also experience fewer crowds and traffic during winter, which means less waiting and more time making memories.
The opposite will likely be true when traveling to a destination with warm winter climates. Winter is the peak season for countries like Australia, India, Argentina, and many more. Therefore, check availability and booking prices in advance if you want to soak up some of that winter sun. These destinations are the most popular choices, so you want to ensure you get the best deals.
Selecting the Right Winter Destination
Deciding the purpose of your visit will help determine where you should travel during the winter months. Many destinations offer beach vacations, outdoor experiences, and urban getaways from October to May. These places tend to be in the Southern Hemisphere.
Suppose you are looking to embrace the winter season and head for northern destinations like Europe, Canada, and the United States. In that case, you can expect plenty of winter activities and fewer crowds. Winter is an excellent time of year to enjoy Europe's famous holiday markets, take a ski trip, or enjoy some fine dining.
It's essential to check the peak season for the destination you are considering visiting and ensure they have all the activities you're looking for in a holiday destination. It is also advisable to review prices and tickets well before travel dates to ensure you don't miss any opportunities. There is a destination to suit all holidays, so you're sure to find a location with everything you could want on holiday.
Best Places to Travel in Winter
For the best winter vacations, we recommend destinations where locals have adapted to cold winter months and know how to make the best of the weather. Almost all major cities in Europe and the United Kingdom have celebrated holiday festivities and world-renowned markets. Strasbourg has the most famous Christmas market in Western Europe, but other notable ones are in Paris, London, Trier, Edinburgh, Dublin, Brussels, and many other cities.
Skiing and other winter sports are also popular reasons tourists head to colder destinations during the winter. Switzerland, Canada, France, and other countries with mountainous regions are popular destinations.
Trying to figure out where you want to go to get the best of winter?
Here are just a few of our top suggestions to help you plan your winter holiday:
Southwestern United States
This region of the U.S. has long been famous as a winter destination for its world-famous ski slopes and winter activities, as well as its temperate climate and urban centers. Southwestern states include Arkansas, Colorado, Louisiana, Montana, New Mexico, North Dakota, Oklahoma, South Dakota, Texas, Utah, and Wyoming. These areas can reach incredibly high temperatures during the summer months, making hiking and camping unpleasant. In the winter, however, they become some of the best outdoor activities destinations. There is plenty of snow on the mountains for backcountry skiing, snowshoeing, cross-country skiing, ice skating, ice-climbing, and trying out a horse-drawn sleigh. Travelers can also take a break from snow activities and head down to the deserts, where you can hike and camp to your heart's desire. Major U.S. cities like Las Vegas, New Orleans, and Houston are popular destinations for art, music, and dining during this time of year. There are hundreds of exceptional opportunities throughout the region at every price point so that everyone can enjoy the best of winter.
Japan
Cold weather won't get in the way of having a fantastic vacation in Japan. With plenty of stunning winter destinations, there is something for all travelers. Winter is a great time to enjoy traditional Japanese sushi and some lesser-known comfort foods like oden, a simmering pot of protein and vegetables, or nabe, a heartwarming stew made to share. The Japanese also have a great bar and café culture where anyone can warm up and try classic beverages and small tasting plates. For those looking to enjoy the outdoors, Japan offers stunning hot spring resorts called onsen that promote wellness, healthy eating, and relaxation. Winter sports like skiing and snowboarding are prevalent throughout Japan in the winter so that snow fans can make the most of the slopes. The best part is that winter is the low season in Japan, so crowds are smaller, and prices tend to be lower!
Quebec, Canada
The French-speaking region of Quebec is a beautiful place to get into the winter mood. Foodies can enjoy classic comfort foods like French onion soup or poutine, a mix of French fries and cheese curd, go ice skating in the city center, or enjoy a hot beverage. In February, the Carnaval de Québec and the Mois Multi art festival are major events. Many travelers avoid Canada in the winter because of the cold weather, which makes it perfect for those looking to enjoy the snow! Prices at popular destinations and tourist sites will be lower than in other seasons, and there will be more deals for high-quality hotels and restaurants.
Switzerland
Switzerland is a winter wonderland full of skiing, resorts, and holiday markets. Lucerne is a great destination to enjoy the best of Swiss winter culture. Cities stay festive all winter long with lights and quaint markets. There are many resorts and plenty of winter activities across the country, including ice fishing, snowboarding, snowshoeing, sledding, and skiing. Switzerland is also famous for its spas, particularly those focusing on wellness, massage, and skincare. Switzerland is known as an expensive destination, but with the cold weather deterring many visitors, prices tend to be more accessible during the winter.
Czech Republic / Czechia
While the winters can get quite cold in the Czech Republic, they are also magical. Cities are decorated with holiday lights and host charming holiday markets. The hills and mountains become snow-covered wonderlands perfect for skiing, snowboarding, and other snow activities. There are tons of deals during this time because of the low season prices and no shortage of unique places to visit. Visitors can enjoy hearty Czech stews and taste Pilsner beer from the country where it originates!
Where to Go For Winter Sun
For those looking to escape their local winter weather, there are exceptional destinations to catch the rays of the winter sun. Sunny winter destinations are located in the Southern Hemisphere, which has its warmest months from October to May. South America, South Asia, and the Gulf are popular winter destinations. You can relax on sandy beaches and eat tropical fruit during Christmas!
While Northern Europe tends to be very cold, there are still popular winter destinations in the South that stay temperate, if not warm, all year round. The best places for winter sun in Europe are southern France, southern Spain, Sicily, Corsica, and southern Italy.
Here are some other unique winter holiday destinations to consider for your next vacation:
Belize
Belize has become a favorite amongst travelers for its stunning sandy beaches, beautiful resorts, and beachfront hotels. It is home to vibrant villages and amazing natural features, including large waterfalls, thick jungles, and amazing views. Visitors can visit Mayan ruins on certain islands, including Caracol in the Chiquibil Forest Reserve. Belize is a very affordable destination, making it easy on your wallet and great for getting a winter tan. It's also very famous for water sports, including sailing, snorkeling, and jet skiing.
Marrakech, Morocco
Marrakech, and the surrounding areas, are very popular with Europeans and Americans because it's such a short flight away. Marrakech combines culture and history with ancient souks (markets), high-quality museums, lots of shopping, and outdoor activities nearby. As a large, cosmopolitan city, Marrakech offers all the delights of urban life at a relatively low price.
Costa Rica
Known for its commitment to preserving natural beauty and diverse ecosystems, Costa Rica is a great winter destination for the outdoorsy types. You can ride horses through the forests and enjoy fantastic wildlife sightseeing. With so many types of wellness retreats and resorts in Costa Rica, everyone is sure to find what they need. Enjoy fresh, local food, or take off for a day of hiking and swimming in natural bodies of water.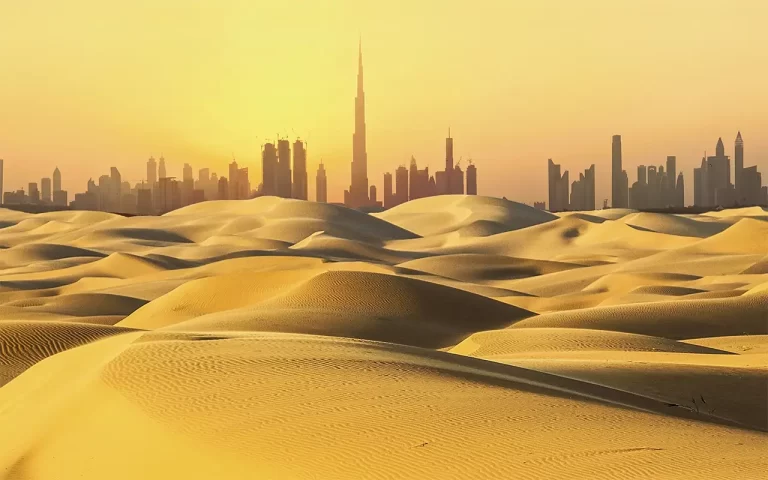 Dubai
More of an urban destination, Dubai is great for shopping, exploring beaches, enjoying colorful souks, or even sandboarding (just like snowboarding but in the desert). Dubai even has an indoor ski resort if you're in the mood for winter – just for a few hours. Dubai also has some of the most impressive malls and an annual shopping extravagansa, The Dubai Shopping Festival, from December to January. The Emirates Airline Festival of Literature is a popular event in February and showcases some of the best new works of literature along with a roster of popular speakers. With some of the best chefs in the world frequently passing through Dubai, visiting new restaurants and culinary pop-ups is a favorite activity amongst tourists and locals.
Best Places to Visit in February
February is an excellent month to travel, whether you are looking to get the best of winter snow or winter sun. On the one hand, ticket fares and hotels tend to be cheaper in countries where winter is considered a low season. Plus, you can catch all the tourist sites without the Christmas and New Year traffic. On the other hand, you can head to better weather in the Southern Hemisphere, where you can soak up the last weeks of winter sun and enjoy delicious fresh foods, warm weather, and incredible outdoor experiences.
Here are some unique destinations for a one-of-a-kind February vacation:
1. Destinations with festivals and carnivals:
The Philippines and Brazil host large-scale events that draw thousands of visitors annually in February. On Valentine's Day, citizens of the Philippines come together to celebrate their love – for Mother Nature! They plant mangroves and celebrate the natural beauty of their islands. Rio de Janeiro, Brazil, hosts a world-famous carnival each year full of music, dancing, parades, and food from mid-to-late February each year.
2. Destinations where locals embrace the winter weather:
Some destinations are geared towards winter lovers instead, and the locals make the most of it with winter sports, spas, natural hot springs, and cozy accommodations. Lapland, Finland, is a unique destination where visitors can experience natural hot springs, ice-fishing, or a reindeer safari!
3. Destinations for winter sun:
The Caribbean is a top-rated winter destination for a reason. With beautiful weather, pristine beaches, and plenty of outdoor activities, islands like Jamaica and Saint Lucia are favorites for the February holidays. Travelers can select from various outdoor activities, participate in a wellness holiday, or relax in one of the many beach resorts.
Whatever your favorite activities are, you can find the perfect destination to get away from the winter snow or enjoy winter to the fullest.
Check if you need a visa for your next destination