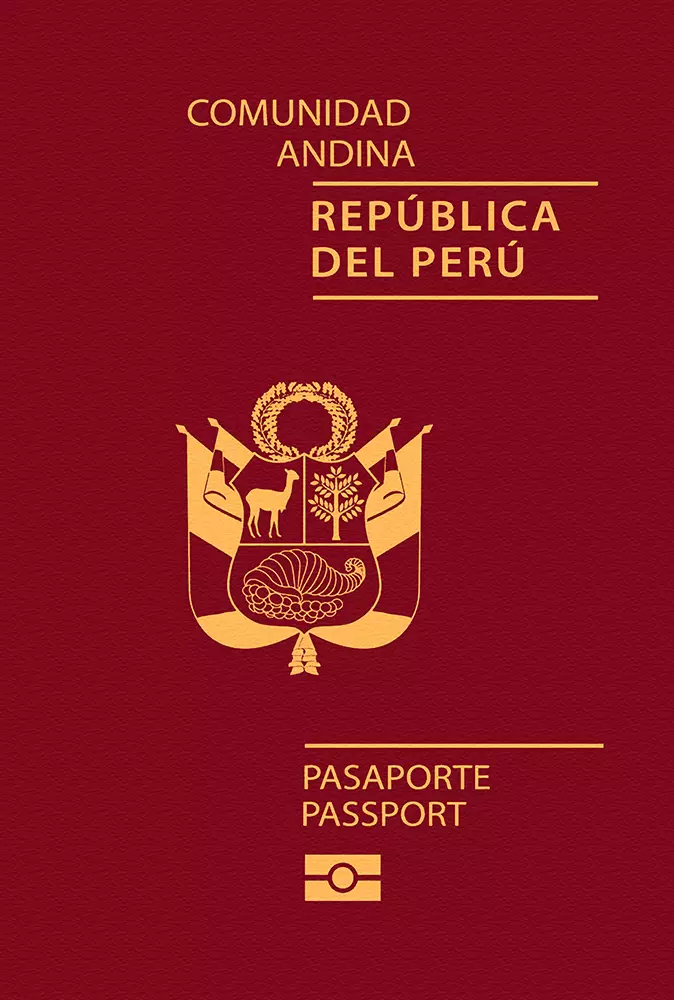 Peru
Peru passport ranking
The Peruvian passport is currently ranked 36th place on the Guide Passport Index. It provides visa-free access to 139 countries. Peruvian passport holders have visa-free access and visas on arrival to countries such as Philippines, Singapore, Russia, Turkey and the entire European Union. Peruvian citizens do however require a visa to enter about 90 destinations in the world. Some countries where a visa is required are China, India and the USA. The passport mobility score is considered good.

Peru Passport Ranking
The Peru passport ranking relative to other global passports is calculated by adding up the number of countries that allow Peru passport holders to enter without a visa (i.e. visa-free countries) and those that allow Peru passport holders to enter by obtaining a visa on arrival (i.e. visa-on-arrival countries) or an electronic travel authorization (eTA). There are currently a total of 101 Peru passport visa-free countries, 36 Peru visa-on-arrival countries, and 2 eTA destinations.
Altogether, Peru passport holders can enter a total of 139 destinations—either without a visa, through a visa on arrival, or via an eTA. As a result, the Peru passport ranks 36 in the world.
Separate from these Peru visa-free countries and visa-on-arrival countries, there are 90 additional destinations which Peru passport holders either need a physical visa to enter or an eVisa (i.e. visa required countries).
About Peru
The Republic of Peru consists of 25 regions. It is located in Western South America. The nation's neighboring countries are Chile, Bolivia, Brazil, Colombia and Ecuador. The most important regions are Lima, Callao and Arequipa. Peru has a surface area of 1,285,216 square kilometers. It is therefore the 3rd largest country in South America. The nation has a broad span of terrains throughout its geography from mountains to plains and jungle. Its climate varies between tropical in the east and desert dry in the west.
The overall population is over 32.2 million people. The capital of the country is Lima. It is also the most populous city with 8.8 million inhabitants. Other important cities are Arequipa, Trujillo and Chiclayo. The largest airport is Jorge Chávez International Airport (LIM) with over 23 million yearly passengers. Followed by Alejandro Velasco Astete International Airport (CUZ) with more than 3.2 million annual passengers. Both airports together provide worldwide connectivity. LIM is named after the famous Peruvian aviator Jorge Chávez.
Peru's culture is primarily influenced by Amerindian traditions and later on by Asian, African and European ethnicities. Roman Catholicism is the main religion. The official languages in the country are Spanish, Quechua and Aymara. The legal system is based on the civil law. The government type is a presidential republic. The chief of state and the head of government is President Dina Boluarte. Elections are taking place every 5 years.
The official currency of the country is the Sol (PEN). The current exchange rate being PEN 3.80 to the USD. The nation has an open economy, generating a GDP of approximately $385 billion. This makes it the 6th largest economy in South America. Its citizens have a per capita income of $11,516. The GDP is mostly made up of 2 key sectors which are services and industry. Its main goods of export are steel, petroleum, textiles, glass, artichokes, asparagus, blueberries, coffee, cocoa and potatoes.
Peru is filled with a variety of urban and natural tourism destinations. The country is known for its 12 UNESCO world heritage sites and many historic Inca buildings. Popular destinations include Machu Picchu, the Inca Trail, Cusco, Lake Titicaca, Colca Canyon, the Sacred Valley and the historic center of Lima. The nation remains tremendously popular amongst tourists. This is due to the vibrant culture and warm hospitality of its citizens. Peru has a total of over 4.4 million tourists visiting every year. The majority is originating from the neighboring countries and the United States.
Check if you need a visa for your next destination