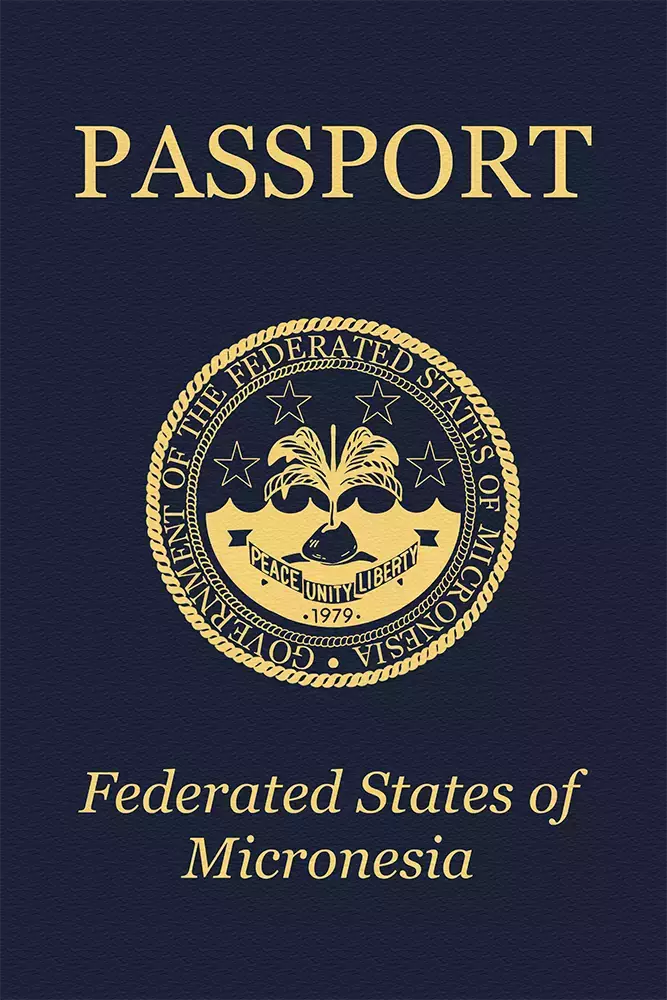 Micronesia
Micronesia passport ranking
The Micronesian passport is currently ranked 50th place on the Guide Passport Index. It provides visa-free access to 119 countries. This grants it an overall good mobility score. Micronesian passport holders have visa-free access and visas on arrival to countries such as Singapore, the United Kingdom, Iran and the entire European Union. However, Micronesian citizens do require a visa to enter about 110 destinations, mandating some more extensive travel preparation. Some countries where a visa is required are Japan, Brazil and China.

Micronesia Passport Ranking
The Micronesia passport ranking relative to other global passports is calculated by adding up the number of countries that allow Micronesia passport holders to enter without a visa (i.e. visa-free countries) and those that allow Micronesia passport holders to enter by obtaining a visa on arrival (i.e. visa-on-arrival countries) or an electronic travel authorization (eTA). There are currently a total of 84 Micronesia passport visa-free countries, 33 Micronesia visa-on-arrival countries, and 2 eTA destinations.
Altogether, Micronesia passport holders can enter a total of 119 destinations—either without a visa, through a visa on arrival, or via an eTA. As a result, the Micronesia passport ranks 50 in the world.
Separate from these Micronesia visa-free countries and visa-on-arrival countries, there are 110 additional destinations which Micronesia passport holders either need a physical visa to enter or an eVisa (i.e. visa required countries).
About Micronesia
The Federated States of Micronesia is an island nation in Oceania associated with the United States. It consists of 4 states. The most important ones are Kosrae and Chuuk. The nation has a surface area of 702 square kilometers and its located northeast of New Guinea. Micronesian geography and terrain are very diverse from high mountainous volcanic islands to low lying coral atolls and reefs. Its climate is tropical, with year-round heavy rainfalls.
The overall population is approximately 113,131,702 people. The capital of the country is Palikir. The most populous city however is Weno, with 14,000 inhabitants. The country's largest and only international airport is Chuuk International Airport (TKK). The airport provides access to domestic destinations and has a few limited international routes.
The culture is dominated by the four-thousand-year-old Micronesian ancestry. The highest percentage religion in the country is Catholic followed by Protestantism. The official language is English, with many other local tribal languages spoken throughout the island. The Micronesian legal system is a mixed legal system of common and customary law. The government form is a federal republic in free association with the United States. The chief of state and head of government is the elected President David W. Panuelo. The Presidential elections are held every 4 years and the president is voted indirectly by the Congress.
The official currency is the United States Dollar (USD). The country has an open economy, generating a GDP of approximately $367 million, making it the 6th lowest GDP in Oceania. Its citizens have a per capita income of $3,584. The GDP is made up of two main sectors of agriculture and industry. Almost all of the nation's income is originating from direct US aid payments. Agriculture and tourism are minor and only to support basic needs. Main exports are craft items, taro, yams, coconuts and cassava.
The Republic the Marshall Islands has a minor tourism industry. Although it has a variety of beautiful untouched natural reserves and reefs. It is known for its vast beaches, lush nature, snorkeling, fishing, surfing and diving. It has one UNESCO world heritage site. Some of the major destinations include Yap Island, World War 2 history sites, Sunset Park, Chuuk, Pohnpei, the Truk Lagoon Underwater Fleet, Nan Madol and the Lelu Ruins. The island nation has a total of approximately 19,200 tourists visiting every year with the majority originating from neighboring islands.
Check if you need a visa for your next destination