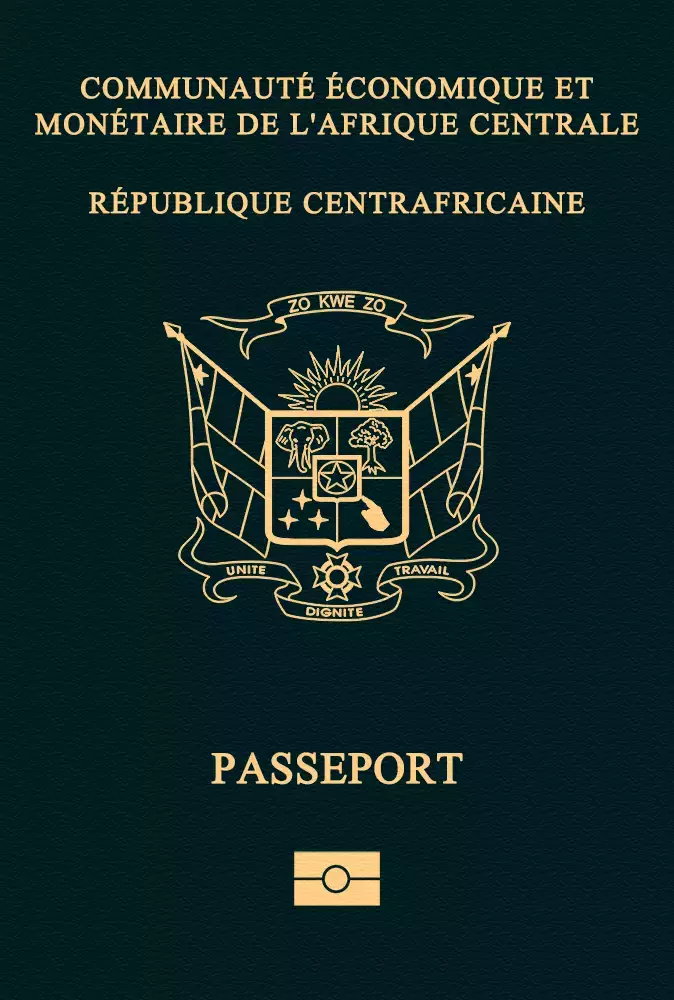 Central African Republic
Central African Republic passport ranking
The Central African Republic passport is currently ranked 91st place on the Guide Passport Index. It provides visa-free access to 51 destinations. Central African Republic passport holders have visa-free and visas on arrival access to countries such as Bangladesh, Philippines, Singapore and Sri Lanka. Passport holders of this country do however require a visa to enter about 178 countries in the world. This high visa requirement results in an overall low mobility score.

Central African Republic Passport Ranking
The Central African Republic passport ranking relative to other global passports is calculated by adding up the number of countries that allow Central African Republic passport holders to enter without a visa (i.e. visa-free countries) and those that allow Central African Republic passport holders to enter by obtaining a visa on arrival (i.e. visa-on-arrival countries) or an electronic travel authorization (eTA). There are currently a total of 22 Central African Republic passport visa-free countries, 28 Central African Republic visa-on-arrival countries, and 1 eTA destinations.
Altogether, Central African Republic passport holders can enter a total of 51 destinations—either without a visa, through a visa on arrival, or via an eTA. As a result, the Central African Republic passport ranks 91 in the world.
Separate from these Central African Republic visa-free countries and visa-on-arrival countries, there are 178 additional destinations which Central African Republic passport holders either need a physical visa to enter or an eVisa (i.e. visa required countries).
About Central African Republic
The Central African Republic (CAR) is a former French colony consisting of sixteen prefectures. It is located in Central Africa. The country borders Sudan, South Sudan, Cameroun, Chad and the Democratic Republic of the Congo. The most important provinces are Bangui, Ouham-Pendé and Ouham. CAR is the 21st largest country in Africa with a surface area of 622,984 square kilometers. Its geography is dominated by flat plateaus and scattered hills in the north and southeast. The climate is mostly tropical with the rainy season in summer and the dry season in winter.
The overall population is approximately 5.4 million people. The capital of the country is Bangui, which is also the most populous city with 890,000 inhabitants. Other important cities of the county are Bimbo and Bibérati. The largest airport is Bangui M'Poko International Airport (BGF) with an approximate yearly passenger traffic of 120,000 people. It connects the capital to multiple destinations across Africa and France.
Its culture is dominated by the French heritage. 90% of the population is Christian. The official language remains French with tribal dialects and languages still widespread. The legal system is based on the French civil law. The government form is a presidential republic with President Faustin-Archange Touadera as elected Chief of State and Félix Moloua as Prime Minister.
The official currency of the country is Central African CFA franc (XAF) with the current exchange rate being XAF 609 to the USD. The country has an open economy, generating a GDP of approximately $4,2 billion, making it the 47th largest economy in Africa. It has a per capita income of $823. The GDP is mostly made up of 3 key sectors, which are services, industry and agriculture. Its main goods of export and GDP contributors are gold, diamonds, cotton, coffee, tobacco and sugar.
The Central African Republic offers several tourist attractions and destinations. It is known for its vast wildlife and safari tours in various national parks. Popular activities are gorilla trekking, boating safaris and hunting. Some of the major destinations include the capital Bengui with its cathedral. Also Zinga, Manova-Gounda St Floris and Dzanga Ndoki National Park and the Boali waterfalls. The Central African Republic has made some major steps in order to attract more tourists to the country. The majority of the 110,000 yearly tourism visitors is originating from the neighboring African countries and Europe.
Check if you need a visa for your next destination