What is Smart Tourism?
Published on:
14 October 2023
According to UN News, by 2030, there will be 1.8 billion people traveling the world. To accommodate this volume of travelers, countries are looking toward Smart Tourism as a means of streamlining and improving tourism infrastructure. Smart Tourism is a transformative approach to the travel industry that facilitates tourism and hospitality through innovative technology and data-driven solutions.
The concept of Smart Tourism harnesses the potential of information and communication (ICT) tools to integrate digital information and services into the tourist experience seamlessly. The goal is to offer tourists more personalized, convenient, efficient, and safe travel options. It also aids host countries by promoting economic growth, protecting and highlighting cultural heritage, and reducing the environmental impact of the tourism industry. Additionally, by investing in and developing ICT-based technology in tourism, host countries can strengthen visitor engagement and attract more tourist revenue.
Smart Tourism originated in the European Union (EU) and is already showing great results in many countries in Europe and elsewhere. The European Union's Smart Tourism concept can manifest as various solutions, including more efficient transportation, country-wide access to free wifi, automated alerts about traffic patterns or public incidents, e-passes for cultural sites that can be obtained online, electric transportation options, and much more.
Empowering Smart Tourism for Sustainable Travel Experiences
There are many ways countries can adopt and apply Smart Tourism practices. First, they should be open to adopting innovative technologies to support new tourism products and services that align with Smart Tourism goals. They should also seek ways to promote and incorporate sustainable practices to improve the longevity of their communities and economies. Smart Tourism also relies on collaboration between countries and cities to foster dialogue, share successful practices, and develop an intercity and international knowledge base for the future.
Some practical applications of Smart Tourism include mobile applications, websites, and IoT (Internet of Things) devices that provide tourists with flexible solutions from various digital touchpoints. Mobile applications and websites can be a great way to connect tourists on the go. They can be used country-wide, and they are easy to access. They can be designed to offer real-time information about attractions, transportation, or events. They can also have a chatbot feature for tourists to seek information without visiting a brick-and-mortar tourism office.
Digital applications of Smart Tourism can offer recommendations based on individual preferences and can even incorporate augmented reality to deliver immersive, interactive experiences at historical sites and landmarks. Better yet, incorporating more technological solutions can reduce the carbon footprint of the local tourism sector by reducing the need for excessive driving and paper products.
For host countries, the data gathered from various touchpoints can be used to gain valuable insights into visitor behavior. This helps them create tailored marketing strategies and improve resource use for more effective and efficient tourism management. Smart Tourism applications can be pivotal in how travelers engage with destinations, enhancing convenience, personalization, and sustainability.
Smart Tourism Destinations
Many destinations already see great results from implementing Smart Tourism solutions and tools. Here are some of the places that are inspiring the world with their innovative examples of Smart Tourism:
Malaysia
The Smart City Framework Malaysia (MSCF), part of the Smart Tourism 4.0 initiative led by the Minister for Tourism, Dato' Seri Mohamed Nazri Abdul Aziz, is considered an international success. The project's primary goal was to overcome urban challenges at the local level by implementing smart solutions for the "inefficient delivery of urban services, environmental pollution, and traffic congestion."
Gothenburg, Sweden
This small town in Sweden has been named the world's most sustainable destination by the Global Destination Sustainability Index and was a Winner of the 2020 European Capitals of Smart Tourism. Visitors to Gothenburg will experience wide-spread 4G coverage, smart grids for traffic and electricity, and optimized public transportation systems. The city also has its own informative website with a real-time chat function. 92% of the city's hotels and 100% of meeting facilities are certified as environmentally friendly. Visitors attending large-scale events can rest assured that the venue and the event have been optimized to be as sustainable as possible.
Malaga, Spain
Málaga was another Winner of the 2020 European Capitals of Smart Tourism and has been working hard to incorporate more sustainable and accessible options for tourists for many years now. The city has installed LED lighting, bike hire stations, bike lanes up to 40 km long, and smart watering systems for public gardens and parks. Málaga's Air Quality Sectoral Plan and its waste management systems are both critical efforts to improve the quality of life in the city. Málaga has put a lot of energy into protecting and improving its natural spaces to create more sustainable environments for local animals and plants. It is also a hub for arts and culture, with many world-class museums designed to be accessible to foreign tourists and residents.
Helsinki, Finland
Named the European Capital of Smart Tourism in 2019, Helsinki has developed several smart public transportation solutions, including driverless buses, bicycle paths, electric cars, and more. They also installed "Helsinki Helpers" throughout the city that can offer assistance in multiple languages. Visitors can use the Helsinki Road Map, which guides tourists and prevents overcrowding for local business owners and residents. Helsinki hopes to become carbon neutral by 2035.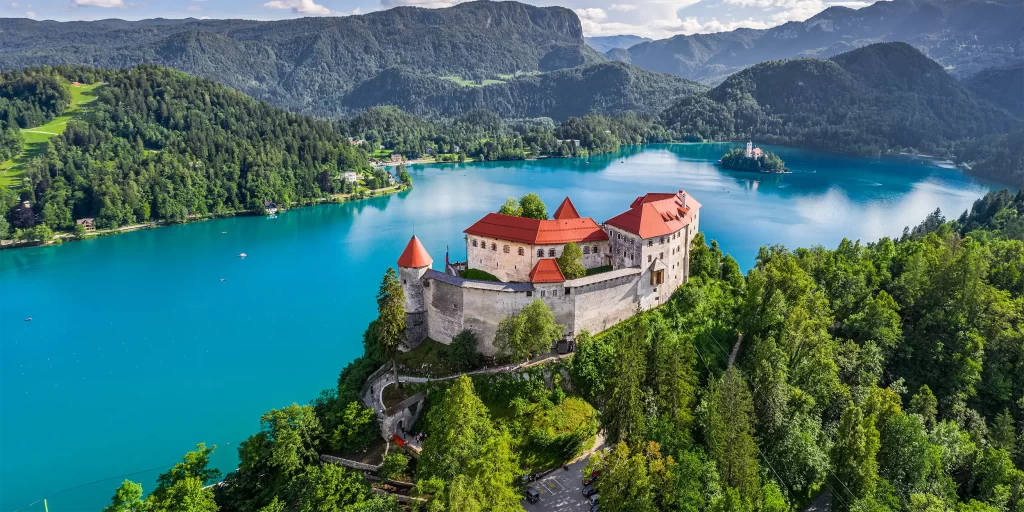 Ljubljana, Slovenia
Ljubljana is setting the bar high for digital city planning solutions. The capital of Slovenia was the Winner of the European Green Capital Award in 2016 and has won awards since for its seamless integration of technology with tradition. 20% of the entire city is protected natural space, and there is a big emphasis on public spaces. Even though private vehicles are banned in the city center visitors won't have trouble getting around. Ljubljana has an integrated transport system that allows URBANA cardholders to take the bus, rent a shared bike, pay for parking, or take a cable car to Ljubljana Castle. Tourists will love the Visit Ljubljana website and app which are regularly updated, multilingual, and accessible through the WiFree Ljubljana network which is available all around the city for one free hour per day or unlimited for a small fee.
Exploring the Applications of Smart Tourism
The concept of Smart Tourism encompasses several types and applications, each designed to enhance different aspects of the travel experience. These types include destination management systems that use data analytics and IoT technology to optimize resource allocation and improve sustainability.
Another type is convenient informational solutions. Mobile applications and websites that provide real-time information are very important for a well-run Smart Tourism initiative. These convenient solutions can provide navigation assistance and personalized recommendations for attractions or dining.
Smart Tourism can also include augmented and virtual reality solutions. AR and VR, respectively, can create immersive and educational experiences that tourists can engage with. These types of solutions are especially effective at historical sites or cultural attractions.
Another type of Smart Tourism is implementing smart transportation systems. These systems incorporate real-time information about traffic, public transportation, available smart parking solutions, and ride-sharing to create more seamless local mobility. This also benefits residents by reducing traffic issues, noise pollution, and overcrowding near residential neighborhoods.
Innovative safety measures are another very important part of Smart Tourism. Tourists want to know they are in good hands when they travel. Host countries or cities can implement surveillance cameras, emergency alert systems, and crowd monitoring to create a safer and well-run tourism sector.
Advantages of Smart Tourism
Smart tourism is advantageous to both tourists and local residents. For tourists, it provides greater convenience and easier access to real-time information about attractions, transportation options, and available services. It also makes planning and navigating more efficient. Smart safety features will offer greater peace of mind, while AR/VR experiences will bring their favorite sites to life.
For the host destination, Smart Tourism can better prepare them for greater numbers of tourists and keep their tourism sector running smoothly for many years. Promoting sustainable practices and responsible tourism helps to protect the local environment and heritage. Improved transportation systems, safety features, and community monitoring also benefit residents by offering them more local conveniences. Host destinations also benefit from reaching tourist quotas and fostering greater economic growth.
Smart Tourism is a win-win for both visitors and destinations. It provides a more seamless and enjoyable tourist experience while increasing revenue for destinations to continuously improve their products, services, public systems, and resources.
Strategies for Implementing Smart Tourism
Implementing a thriving Smart Tourism infrastructure requires a comprehensive approach that looks at the long-term goals and impact of proposed projects. Stakeholders must collaborate closely to ensure that their objectives align with the principles of Smart Tourism, as well as the unique needs of each area. Conducting research is a fundamental step to ensure that tourists and residents benefit from the proposed changes.
After developing a plan, project managers must secure the appropriate funding and investments to implement their ideas. They should decide on the technology, such as IoT sensors, mobile apps, and data analytics systems, that best aligns with their goals and begin to create a budget. Of course, they must proceed thoughtfully, keeping sustainability as a guiding principle and incorporating environmentally friendly practices wherever possible.
As projects develop and Smart Tourism solutions take effect, the destination can begin to allocate revenue toward new projects, including larger transportation systems and digital information platforms. These expanded systems will require expertise and training and help foster local job creation. Local communities can benefit from the revenue from Smart Tourism and use the newly implemented tools in their daily lives.
A well-implemented Smart Tourism initiative should be dynamic, flexible, and collaborative. It should leave room for further development and constantly reevaluate how to improve the tourist experience while protecting the local treasures, history, and natural environment for the future.
In this era of rapid technological advancements, Smart Tourism stands as a testament to the transformative power of innovation in the travel industry. As we navigate an increasingly interconnected world, the applications of Smart Tourism continue to revolutionize the way we explore new destinations. It's not just about convenience and personalization; it's about forging a sustainable and secure path toward memorable travel experiences. The future of tourism is, undeniably, smarter and more promising than ever before, and it offers a glimpse into a world where travel seamlessly combines the best of technology with the essence of adventure. So, whether you're an avid explorer or a curious wanderer, Smart Tourism is your gateway to a future filled with extraordinary journeys and unforgettable memories.
Check if you need a visa for your next destination